Anthrax
O2 Academy Brixton, London.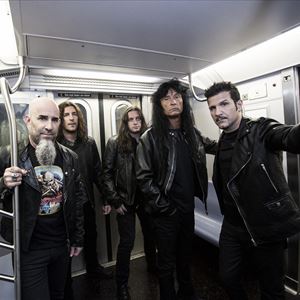 8+ only. 9s to 17s must be accompanied by an adult. No refunds will be given for incorrectly booked tickets.
More information about Anthrax tickets
Price includes a £1.75 venue facility fee

General O2 Academy Brixton Information:

Letters or Authorisation are accepted on non-names on ticket events. Just bring a letter from whoever booked
them for you, stating your name, the booking reference and the last four digits
of the card they used to buy them giving you authorisation to collect the tickets.

For events with no age limit, under 14's must be accompanied by an adult and
seated in the circle.

Under 21's require I.D. to purchase alcohol.

Please note that if you have selected unreserved circle you will either have
to sit in the circle or stand at the back of this area.


Anthrax
It's rare that a career gets a second shot, let alone a whole second act, but then ANTHRAX isn't your average band. Formed in New York in 1981, the group that would go on to sell over ten million records and become the living embodiment of America's hi-top wearing, riff-spitting, ear-thrashing answer to the New Wave Of British Heavy Metal has undergone not one, but two complete eras - but that isn't their real achievement. More than the group who let a fledgling METALLICA crash on their studio floor in 1983, who became a lightning rod for geekdom by immortalizing Judge Dredd with 'I Am The Law' in 1987, who enthusiastically raised a middle finger to the critics and unimaginative fans alike by collaborating with rappers PUBLIC ENEMY in 1991, and who - in 2011 with the release of »Worship Music« - proved that classic albums aren't a bygone concept, the story of ANTHRAX is one of gritty determination in the face of outrageous odds.