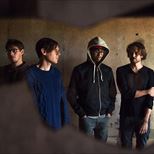 Little Comets
KOKO, London
14+ only. 14s to 15s must be accompanied by an adult. No refunds will be given for incorrectly booked tickets.
With support from - Eliza And The Bear
With the glorious energy of a salmon swimming upstream in a laboratory experiment, Little Comets will release new album - WORHEAD – into the world on February 3rd 2017, alongside a UK tour.

An exploration of how it feels to prepare to discuss the horrors of the world with a growing person, WORHEAD is the most brutally honest Little Comets album to date – ascerbic, withering and uncomplimentary about the state of our time; yet woven together with great beauty and care, drenched in positive melody and the percussive thrust of an innocent mind.
KOKO's Disability Policy
KOKO is keen to promote equality of opportunity for disabled people and to
take the necessary steps to meet disabled people's needs.

This guide is designed to inform everybody who comes to KOKO what we can
offer customers who may have particular needs.

Bookings & Ticketing
We do not have allocated disabled tickets.
We do not have "disabled area" tickets. Tickets must be bought in the same
way as non disabled people. Once a person has bought a ticket we can provide
them an allocated space in the disabled area. If the event is sold out we
cannot sell extra tickets.

Personal Assistant Ticketing Scheme.
People with accessibility needs may need to have someone with them. We offer
a 2 for 1 Ticket Policy for personal assistants. This arrangement is made
through the venue and not the ticketing agencies.

Aside from this we do not offer a reduced rate ticket price.
The service we offer is of equal quality to both disabled and non disabled
people so a discount is not necessary.