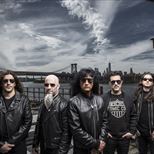 Anthrax
O2 Institute, Birmingham
14+ only. 14s to 15s must be accompanied by an adult. No refunds will be given for incorrectly booked tickets.
Performing 'Among The Living' and More.

Accessibility

The HMV Institute takes the needs of disabled customers very seriously and
actively encourages people of all abilities to attend the events scheduled at
their venue.

Though built at the turn of the 1900's, the building has been modernized to
allow wheelchair access via front of house (please note there is no backstage
disabled access). Due to Health and Safety Assessments, we regret the number
of wheelchairs that we can admit to the building is limited.

In order to ensure that all disabled patrons to the HMV Institute are
adequately catered for, we request that in advance of ticket purchase all
disabled customers contact the venue to explain the nature of the disability.

Please email info@hmvinsitute.com or call 0121 643 0428. The telephone line
opens at 11am and closes at 5pm and operates Monday to Friday. Please do not
call outside of these hours as you will be asked to call back. Please note
that no other query can be dealt with on this number.

On the evening of an event, we do advise disabled customers to arrive at the
venue 15 minutes prior to doors, ideally accompanied by a companion over 18
years old who will be admitted free of charge.

The free companion ticket is available to patrons who are registered disabled.
Both the ticket to be paid for and the free companion ticket needs to be
booked in advance.

Please email info@hmvinstitute.com for specific requests, enquiries or
comments regarding access/personal needs and a member of our team will
endeavour to accommodate such requirements. Anthrax
It's rare that a career gets a second shot, let alone a whole second act, but then ANTHRAX isn't your average band. Formed in New York in 1981, the group that would go on to sell over ten million records and become the living embodiment of America's hi-top wearing, riff-spitting, ear-thrashing answer to the New Wave Of British Heavy Metal has undergone not one, but two complete eras - but that isn't their real achievement. More than the group who let a fledgling METALLICA crash on their studio floor in 1983, who became a lightning rod for geekdom by immortalizing Judge Dredd with 'I Am The Law' in 1987, who enthusiastically raised a middle finger to the critics and unimaginative fans alike by collaborating with rappers PUBLIC ENEMY in 1991, and who - in 2011 with the release of »Worship Music« - proved that classic albums aren't a bygone concept, the story of ANTHRAX is one of gritty determination in the face of outrageous odds.